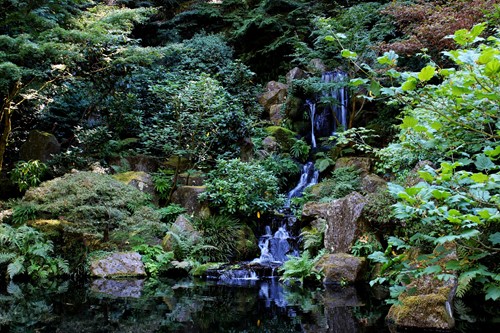 If fountains are the only elements that come to mind when someone mentions adding water features to your outdoor entertainment area, you're in for a treat. Today's water features come in so many more options: Man-made ponds, water walls, rain curtains, scuppers and jets are only several choices you have when it comes to adding a backyard water feature. Here's what you need to know about each:
Man-made Pond
Backyard ponds are gorgeous additions to any landscape, rural or urban. To add one, you'll need to excavate a small area of yard, drop in a pond liner, and add a submersible pump with a filtration system to keep water clear and pristine. You'll want to build out the edges of your pond with attractive rocks, boulders and gravel. Plant some pretty perennials of varying heights around the pond, and you'll have a relaxing water feature that draws guests to its edge at every party.
Water Wall
If you've ever watched a backyard improvement show, you've likely seen a water wall. The first step in designing a water wall is to create an eye-catching vertical hardscape for the water to cascade down. Walls covered with pretty tiles, synthetic wood or stone are popular choices. When completed, water is pumped up to the top of the wall, where it runs back down, pools and is pumped back up the top of the wall.
Water walls make excellent features for backyards where the noise of a freeway or a busy city intrudes on your private space. The trickling sound of water is an excellent buffer to unwanted noise.
Rain Curtain
Similar to a water wall, a rain curtain involves streams of water pouring downward. In a rain curtain, however, the water doesn't run down a wall. Instead, it falls in a sheet from a free-standing structure, pools into a basin, and is pumped vertically to fall again. You can walk through a rain curtain, and this feature is an excellent addition to most pools.
Scuppers
Scuppers are often used in multi-level pools or water features to deliver significant amounts of water from a top level to a lower level. They create sound and movement in your backyard, and are filtered so the water is always clean, fresh and pure.
Laminar Jets
Laminar jets shoot water out over your pool or existing water feature in pleasing arcs. You can adjust the size of the arc so that it falls exactly where you want. You can also adjust the width of the water spray, or change it from solid to intermittent.
Today's water features are really only limited by your imagination, your DIY skills or your budget, and they go a long way toward increasing the fun and function of your backyard oasis.